Stretch Wrapping Tools
THE ELIMINATOR STRETCH WRAPPER (Model EL-1020)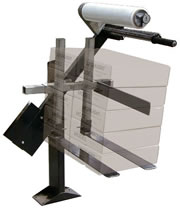 The ELIMINATOR, Named for what it does best......
Eliminates the cost and additional inventory of master cartons, strapping, shrink, and costly motorized systems. That's how it's earned its name - Eliminator. That's true of all noteworthy tools that stand the test of time. Obsolescence is eliminated as your packaging requirements change. The Eliminator is there to meet those changing needs. Engineered for packaging flexibility. Practical and easy to operate, the standard design of the Highlight Eliminator stretch bundles packages 24x24x24 inches and weighing up to 70 pounds. Highlight designed the Eliminator to grow with your changing packaging requirements. Variations developed for your specific applications, such as increased package capacity, cylindrical or odd-shaped products, are easily incorporated.
Floor mounted stretch bundler. Fast, convenient stretch bundling of larger products. Eliminates costly corrugated cartons, tape, strapping and shrink film, while improving package design and integrity. Bundled product maintains stationary position as film rotates to secure load.
Precise film stretch control
Weight capacity to 70 pounds
24" x 24" x 24" product capacity
SPECIFICATIONS:
| | |
| --- | --- |
| Model | EL-1020 |
| Description | For 18"–20" length x 10" diameter film |

For more information, please click here.
STRETCH BAND-IT™ DELUXE (Model ASB-3000)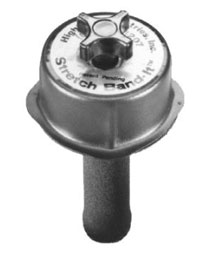 Stretch Band-It™ is a revolutionary new packaging system that eliminates the use of tape, string, strapping, banding, and twine. This radically new film stretch system gives you the right amount of film stretch for any particular job. Most important, the stretch wrap only sticks to itself - and won't damage packages or deface goods like other conventional methods.

The Deluxe ASB-3000 offers fully mechanical, adjustable stretch control for full range film stretch. Comfortable foam style handle.
STRETCH BAND-IT™ STAND (Model HBS-100)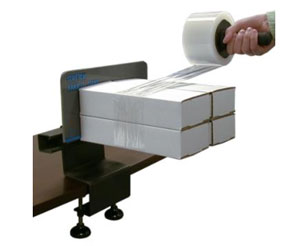 The Stretch Band-It™ Stand is a natural addition to any shipping room operation. Its design is simple. Mounts easily to a table, allowing quick unitization of multiple products. Combination shipping saves you money! Highlight's Band-It™ Stand together with the Stretch Band-It™ give you a system that makes it easy to combine packages and cut shipping costs. Simply set the product(s) to be unitized on the Band-it™ Stand supports, take your Stretch Band-It™ and quickly stretch wrap them securely together. Bundled products are easily removed from the coated supports after wrapping. Quality construction for years of service. The Band-It™ Stand accommodates package weights to 35 pounds. Fully adjustable coated steel supports balance your project and allow for quick removal of the bundled product. Sturdy backplate aligns your packages while you quickly wrap your product together.