Direct Thermal Printers
TSC direct thermal printers require the use of heat activated labels and do not require a ribbon. While somewhat durable, direct thermal labels are prone to darkening over time due to age or exposure to extreme light or heat. Direct thermal printing is popular in applications such as mailing, small parcel delivery, retail and the food industries where most items are stored away from heat and sunlight, and the expected life of the label is less than 1 year. The primary benefit is an overall lower cost since ribbon is not required, and direct thermal printers are easier to operate.
TDP-225W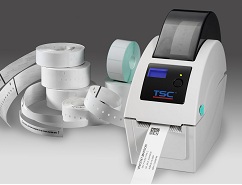 One of the latest additions to TSC's line of world-class desktop printers, the TDP-225W wristband label printer is custom-designed for patient ID and entertainment ticketing.
The TDP-225W features an LCD printer-status display and offers USB 2.0 and Ethernet connectivity. Unlike other direct thermal printers, it is extremely compact, while supporting full 6.5-inch OD wristband rolls. Its spring-loaded center-biased wristband holder accommodates standard 1-inch-core that is common to full 6.5-inch OD rolls
For more information, click here.