Control Management - Warehouse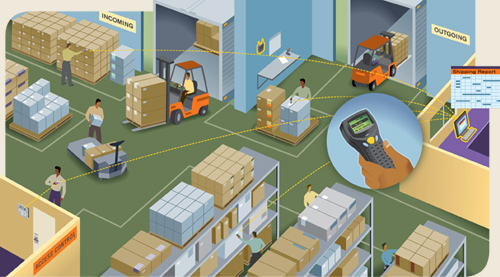 Electronic tracking throughout the supply chain is critical, even mandated for identification, security and control of goods. The warehouse, once a separate function, today is seamlessly integrated into a logistics process that synchronizes inventory, picking, delivery, returns, and replenishment. With versatile WPAN, WLAN, WWAN, and RFID options, CipherLab helps manage every step. From proof of delivery and cross docking through order staging and driver automation, instant, accurate data brings order to a complicated world.
Warehousing Overview
Retailers everywhere receive products from massive warehouses. Finding your way around one is daunting enough without having to look for a specific item within the multiple acres of aisles and storage racks. But this environment is where CipherLab mobile computers and wireless handheld scanners thrive and bring enormous benefits to warehouse operators and distribution managers.
With CipherLab industrial mobile computers, picking and put away could never be easier. Applications loaded into the mobile computers guide warehouse workers where each product is located - aisle, rack, and shelf. As goods are picked or put away, databases are remotely updated through BT or wireless LAN technology. Warehouse and destination store managers know the status of goods movement as it happens. BT technology lets workers print picking receipts instantly on a BT-enabled printer and connect to other BT devices that might be needed.
CipherLab technology integrated within the supply chain management system improves efficiency and productivity.
CipherLab in Warehousing and Distribution
Order Picking and Staging, Product Labeling and Tracking, Shipping, Receiving, Put Away, Cross Docking, Access Control, Mobile Inventory Management. Wherever efficiency and accuracy are critical to control movement of goods and keep labor costs down, you'll find CipherLab solutions.
Back to Top
Order Picking and Staging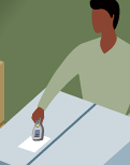 In large warehouses, finding an item can be difficult, especially for new or temporary employees. But hand them a CipherLab mobile computer that's integrated with the inventory management system, and work gets done quickly.
When items need to be picked from the shelves, CipherLab mobile computers, a wireless network, and your inventory system accelerate getting products to staging and shipped. With a product item number or barcode, the mobile computer can query the inventory management system and instantly indicate what aisle and shelf the item is on. As it's picked and scanned, the mobile computer updates the inventory count automatically, eliminating paper records and improving efficiencies.
If the item needs repacking with other items, a CipherLab mobile computer and printer with BT technology make fast work of labeling a carton. Each item's description, weight, and barcode can be printed on a single label, making it easy for staging and cross docking to track the items.
Back to Top
Product Labeling & Tracking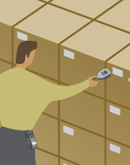 CipherLab wireless mobile computers with BT technology and a belt-clip BT printer make labeling fast and easy. Data transmitted over the wireless network to a wireless LAN-enabled mobile computer enables the latest information from your servers to be printed on the label.
Back to Top
Shipping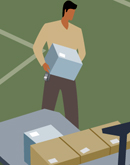 Shipping docks are full of activity. Workers roll hand trucks and pallet jacks loaded with cartons. Forklifts swiftly move pallets into trucks and containers. Time is of the essence, so moving the right goods to the right places efficiently and accurately is a key factor to success. That's why CipherLab mobile computers and scanners can be seen in the hands of shipping workers.
Paperwork only slows down the movement of goods. CipherLab wireless LAN-enabled mobile computers, with built-in RFID and laser scanning capabilities, work in concert with the company's WLAN and shipping and receiving management software to eliminate paperwork. This integrated solution guides the movement of products to the right places - containers, trucks, and vans - without stopping to fill out forms and check job sheets.
Our mobile computers can be configured with a range of lasers to match scanning needs: whether the goods are very close or across the floor. The right laser optimizes a worker's efficiency. An extra-long distance laser means he can scan a pallet without getting out of the forklift. A normal laser enables a worker with a hand truck to read cartons quickly, verifying he's taking the right ones, before rolling them away. And a hand grip keeps the unit comfortable for long shifts. Whatever the need, a CipherLab-based solution will help accelerate work and improve accuracy in shipping.
Back to Top
Receiving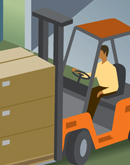 In receiving, there are a lot of goods to handle by several people. That's why CipherLab mobile computers and scanners in receiving are so great. They accelerate checking orders, handling the goods, and getting them where they need to be. Built-in barcode scanners for different distances facilitate finding and checking items, from single packages to pallets, whether you're right next to them or across the dock in a forklift. RFID readers in mobile computers allow you to accomplish even more within seconds. And, with wireless LAN-enabled mobile computers from CipherLab, inventory management and shipping data is updated instantly and automatically.
Back to Top
Put Away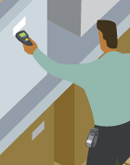 In large warehouses, put away can be as complex as picking. Workers equipped with a CipherLab mobile computer and your inventory management system can work fast and efficiently. As barcodes on goods are scanned for put away, the inventory system indicates what aisle and shelf they belong on. And, when the item is put away, scanning the shelf location makes it easy to confirm it's in the right place so you can find it when it's needed.
Back to Top
Cross Docking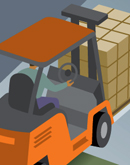 Cross docking can save warehouse space and costs, but only if the goods make it to the right destination on time. A mistake can mean lost sales. CipherLab mobile computers and the company's inventory management system help keep goods on track.
CipherLab wireless LAN-enabled mobile computers work seamlessly with software and a WLAN to transmit scanned data and receive information, putting critical and timely instructions in the hands of the workers to keep the goods moving in the right direction. A CipherLab mobile computer can help reduce the number of times a package is handled.
Whether a company's operations are based on Windows® or a Windows®-free environment, CipherLab has a handheld, mobile computer with the memory and computing power to handle demanding applications effortlessly. You can also configure our mobile computers with the right laser for reading cartons close up or pallets far away, improving work efficiency. And, whether workers carry the device, or ride with it in a forklift, we have the right accessories to make it a comfortable work companion.
Back to Top
Access Control in Warehousing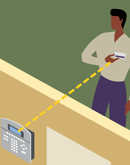 With millions of dollars worth of goods in stock, security is a high priority in any warehouse. Access to secure areas is typically granted through keypads and employee badges with magnetic stripes, barcodes, or RFID tags. CipherLab magnetic and barcode readers and keypads excel in these applications.
Readers usually react in real time, sending and receiving security data and waiting for access permissions to be granted. This makes it easy for security administrators to keep security privileges up to date on servers and remote, programmable devices, like the keypad terminal. Where secure access includes a guard scanning RFID tags or barcodes, a wireless LAN-enabled CipherLab scanner or mobile computer gives the guard mobility while the company maintains its high security.
Back to Top
Mobile Inventory Management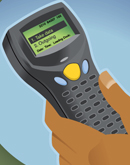 When a company's sales depend on the right items making it to the sales floor, word-of-mouth orders and paperwork only create potential for errors. Automated ordering and communications using CipherLab mobile computers, wireless networks, and the company's ordering system reduces paperwork and errors.
As orders are placed daily or hourly from the sales floor using a CipherLab mobile computer, they can be uploaded to mobile computers in the warehouse. Picking is simplified with clear instructions on items that need to be picked and where they are located. Sales associates and supervisors can quickly retrieve the status of an order right on their mobile computer screen, keeping them instantly informed of goods needed for customers. Whether a company's operations are based on Windows® or a Windows®-free environment, CipherLab has a handheld, mobile computer with the memory and computing power to handle mobile inventory applications effortlessly.
Back to Top