Control Management - Retail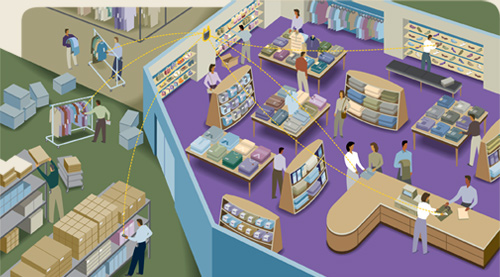 Like a journalist, today's smart retailers need the 5W's - Who, What, Where, When and Why - to maximize profits and customer satisfaction. CipherLab solutions enable accurate records, accelerated stocking, and timely customer service, but that's just the beginning. Instant wireless access speeds transfers, pricing, ordering, returns and replenishment. Not to mention accurate, timely management of every detail. CipherLab is tuned to retail - from the low-margin, fast-turn convenience store to enterprise chains and high-ticket exclusive boutiques.
Retail Overview
From the personal, neighborhood convenience store to massive retail chains, one thing is common, their need to repeatedly and completely satisfy their customers. Keeping the right products that create sales readily available and then speedily checking customers out is critical to any retail business. CipherLab products make it easy to meet these critical objectives by accelerating inventory, ordering, customer service, and checkout.
In the small convenience store, CipherLab mobile and pocket computers with CipherXpress software make it easy and fast to inventory and order goods automatically over the Internet to keep shelves fully stocked. BT technology in CipherLab mobile computers lets you work wirelessly in real time, without batch uploading. Handheld scanners, connected to the cash register and store inventory database, accelerate checkout while updating your store stock status.
In larger retail operations, CipherLab mobile computers with wireless LAN or BT technology can be used throughout the store to remotely access servers. Floor workers can verify and update inventories automatically as they check stock levels. Sales personnel can access pricing and availability data for customers wherever they might be on the floor. At checkout, wired and BT-enabled wireless scanners accelerate getting customers on their way.
Finding CipherLab in Retail
Receiving, Inventory, Backroom, Sales Floor, Checkout. Wherever products must move quickly and accurately from the receiving dock to the customers' homes, CipherLab solutions will help keep customers happy.
Back to Top
Receiving in Retail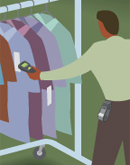 If there isn't one thing to do there's something else that needs to be done. For small store operators, they do everything, not just receiving. For large companies, there are a lot of goods to handle all the time by several people. That's why CipherLab mobile computers and scanners in receiving are so great. They accelerate checking orders, handling the goods, and getting them where they need to be. Built-in barcode scanners for different distances facilitate finding and checking items, from single packages to pallets, whether you're right next to them or across the dock in a forklift. RFID readers in mobile computers allow you to accomplish even more within seconds.
Using CipherLab mobile computers with wireless networks keeps order systems up to date instantly as goods are scanned. And the system can even tell the operator where it needs to go next - to the warehouse or store, room, aisle, and shelf.
Back to Top
Put Away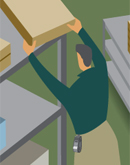 To find an item fast when it's needed, you have to know where it is. CipherLab wireless LAN-enabled mobile computers with wireless networks help you not only accelerate put away, but find it later. As barcodes on goods are scanned for put away, the inventory system indicates where they need to go and displays the location on the mobile computer screen. When you get there, scanning the shelf location makes it easy to confirm it's in the right place so you can find it when it's needed.
Back to Top
roduct Labeling & Tracking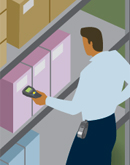 Whether you label products at receiving or when they reach the sales floor, CipherLab wireless scanners and mobile computers with BT technology and a belt-clip BT printer, make it all fast and easy. Simply scan the product barcode and confirm the pricing in the system as it appears on the mobile computer screen, then print out a label on the spot.
Back to Top
Price Check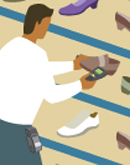 When price labels disappear from shelves and products, it's easy to put new ones on, or to update the price on the spot. wireless LAN-enabled and BT mobile computers let you scan a barcode, retrieve the pricing from the computer system, and print a label on a belt-clip BT printer, or one located on a mobile cart. You'll never need to leave customers - or store personnel - wondering about prices again.
Back to Top
Shelf Product Replenishment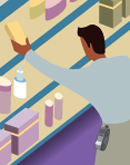 When shelves empty out, checking when you can fill them again involves the entire supply chain. With wireless LAN-enabled CipherLab mobile computers, your wireless network, and a supply chain management (SCM) system, you'll stay well informed - right at the empty store shelf. A quick scan of the item barcode and your SCM application can tell you whether the item is in the back room, distribution center, in transit, or at the supplier's shipping dock. All within seconds and right on the mobile computer's large screen.
Back to Top
Order Picking & Staging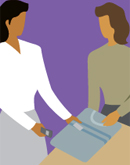 When items need to be pulled from the warehouse, CipherLab mobile computers, a wireless network, and your inventory system accelerate getting products to your shelves and to the customers. With a product item number or barcode, the mobile computer can query your inventory management system and instantly indicate what aisle and shelf the item is on. As it's picked and scanned, the mobile computer updates your inventory count automatically, eliminating paper records and improving efficiencies throughout your supply chain.
Back to Top
Mobile Inventory Management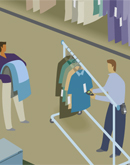 Your business day ends with satisfied customers, but it starts with making sure products are ordered and on the shelves. Now you can do so with a CipherLab mobile computer and your wireless network. With proper software installed, you can check with your shelves, low quantities can be instantly ordered and transmitted to your supplier or an internal application. Whether you work wirelessly or in batch mode, a CipherLab mobile computer will help you keep the products you need on your shelves.
Back to Top
POS Checkout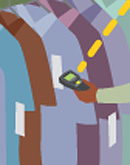 Line busting keeps customers happy. And CipherLab wired and BT scanners make it happen. These, rugged, sturdy, hard-working scanners accelerate checkout with fast, accurate barcode scanning. BT scanners put mobility in the checkout lines, allowing easy scanning away from the checkout counter.
Back to Top