Control Management - Manufacturing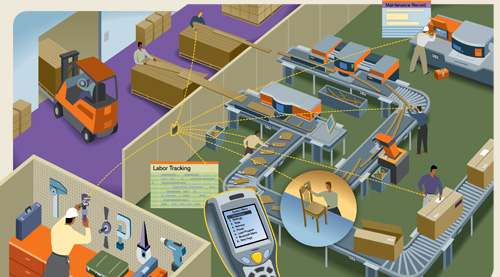 To meet the challenges of the global marketplace, smarter manufacturers increase levels of customer satisfaction, service efficiency and production economy. CipherLab AIDC solutions make it all possible. With real-time data, staff deployment, materials handling, inventory control and sales cycles gain profitable efficiency. QC, WIP tracking, inventory control and shipping/receiving gain accuracy. Even tool cribs get organized. Put rugged CipherLab products to work in the lab, on the shop floor and in the warehouse.
Manufacturing Overview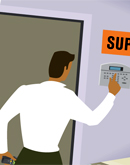 Global competition constantly places more pressure on manufacturing businesses to be more efficient and with 100% accuracy on their operations, from their supply chain management, through the build process, to shipping. CipherLab scanners and mobile computers give production line workers, supervisors, managers, and executives the tools they need - in the warehouse, on the production line, at quality control, and shipping.
Wireless LAN-enabled CipherLab mobile computers and wireless scanners with BT technology allow warehouse workers to keep inventories continuously updated for accurate, efficient supply chain management and inventory turns. A range of scanning capabilities, from close-up reading of tiny labels to scanning distant pallets and cartons, reduce tracking and supply errors.On the production line, handheld scanners at build stages keep production records accurate and managers constantly informed of productivity through the line. Mobile computers with wireless LAN technology allow supervisors to keep working as they move from their office to production stages checking on the day's progress.
In shipping, handheld scanners with BT technology update shipping orders and manifests, eliminating hand-generated paperwork and accelerating more accurate finished goods shipments.
Back to Top
Raw Material & WIP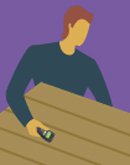 Materials and the supply chain form the foundation of a manufacturing organization. Knowing where materials are located in the production process - inventory or on the production line - can mean meeting orders or delaying sales.
As material leaves inventory, CipherLab scanners can track it to its destination. As parts are dispensed at stations on the line and integrated into finished goods, supervisors, purchasing managers, and even sales associates can stay informed with up-to-the-minute status of material demand, delivery, and usage, and even WIP and finished goods. Wireless LAN-enabled CipherLab mobile computers put instant access to information in the hands of mobile workers, while our wired and BT scanners at fixed workstations keep the supply chain databases current CipherLab solutions enable an agile, responsive manufacturing environment.
Back to Top
Labor Tracking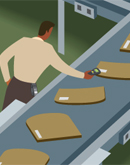 Much - if not most - of cost of goods consists of labor. And it's often the most expensive part of the manufacturing line. So careful tracking of workers' time and attendance as they arrive and leave, and throughout their work tasks, can result in critical cost savings and more efficient processes. For example, when an operator has to stop his machine to move to a station keypad terminal or card reader to record a task completed, it can reduce efficiency and increase costs.
CipherLab magnetic readers, time and attendance terminals, and mobile computers with both barcode readers or RFID interrogation integrate into daily activities to help keep work efficient. CipherLab magnetic stripe readers integrated with time and attendance solutions read employee badges to track punch in and out. With a CipherLab keypad terminal or scanner at each workstation, employees can quickly enter employee ID and task information, which is instantly sent to system servers. RFID tags or barcodes in employee badges eliminate hand entry and swiping. Mobile workers using wireless LAN enabled CipherLab mobile computers with a built-in RFID reader can record their activities on the spot and keep production data current.
Back to Top
Quality Assurance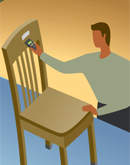 Whether your quality assurance process occurs in the middle of the production line or at the end, tracking of products, lot numbers, inspection results, and more is a critical part of ensuring your products meet expectations and requirements. CipherLab mobile computers with BT and Wireless LAN capabilities give the Quality Assurance department ultimate control over their work and responsibilities.
As products enter the QA process, an inspector can quickly identify and record them with a Wireless LAN-enabled mobile computer. CipherLab mobile computers with a built-in RFID interrogator accelerate the reading activity. Records stay instantly up to date. Bluetooth mobile computers along with a belt-clip BT printer allow instant labeling of products to indicate lot number, results, inspector, or other important information. While QA ensures the quality of products, CipherLab mobile computers can help ensure the effectiveness and quality of the process.
Back to Top
Product Labeling & Tracking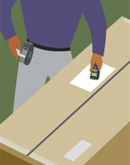 Along the production line and at the end, WIP and finished goods often get one or more labels. When the labels are part of product history, quality, or other aspect, accuracy is critical, and efficiency with labeling and tracking can impact your costs. CipherLab solutions based on our Bluetooth mobile computers and industry-available BT printers put both accuracy and efficiency within easy reach.
CipherLab mobile computers with wireless LAN and BT let you scan barcodes or read RFID tags for fast identification. Data is transmitted through your local WLAN to your production system software, which can trigger the label to print on a BT-capable printer, or to take other action. CipherLab products are key components of a seamless solution from the receiving dock to the shipping dock.
Back to Top
Tool Cage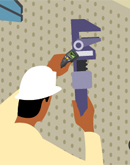 Like your employees, your tools and equipment are critical to your production processes. They need to be in the right place at the right time to be of the highest value. And whether a tool is on the production line, in repair, or out of service, knowing where it is gives you better control over your valuable business assets. CipherLab mobile computers and scanners integrated with your asset tracking system enable you to stay on top of your tools and equipment.
A CipherLab wired or BT scanner in the tool cage eliminates time-consuming paperwork. As tools are requested and returned, scanning them instantly logs movement out of and into the tool cage's electronic records. On the production floor and loading docks, a wireless LAN-enabled mobile computer can read tool and equipment barcode labels or interrogate RFID tags for audits, maintenance scheduling, and other tracking purposes. CipherLab products with your asset management system save paperwork, time, and associated costs in tracking, maintaining, and accounting for your tools and equipment.
Back to Top
Plant Maintenance & Repair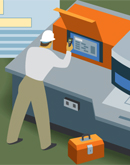 When it comes to keeping the production line and plant operations up to standards, information is critically important to mobile technicians. From the start of their day, through every aspect of their tasks, to the end of their shift, CipherLab mobile computers enable them to get their jobs done faster and more efficient.
CipherLab mobile computers with wireless LAN, BT, and wireless WAN (GPRS/GSM) give mobile technicians access to the tools they need - wherever they go. Equipped with barcode scanners or RFID readers, service technicians can instantly verify equipment against the work order ensuring they are working on the right equipment at the right time.
Our Windows®-based or Windows®-free mobile computers put the day's repair orders and schedules, service histories, problem reports, parts orders, and even technical bulletins and manuals in their hands. They can instantly file their reports through the WLAN or wireless WAN and print service labels on BT printers to attach to serviced equipment. CipherLab mobile computers are real time savers, enabling repairs to get done faster.

Back to Top