Control Management - Logistics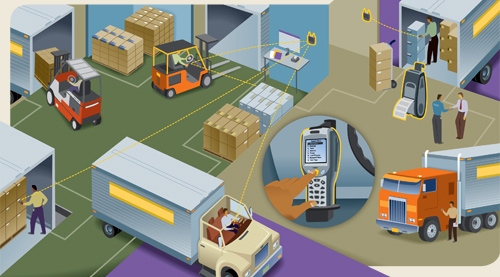 Logistics pros put the right goods in the right place at the right time. CipherLab's rugged products do the hard work, despite the bumps and grinds of trucks, warehouses and loading docks. Wireless communications enable enterprise-wide coordination - with the power to track, identify, inventory, load manage, trace, dispatch and deliver - with full compliance from source to customer. Need terminal emulation? Inventory for QuickBooks? Labels printed? CipherLab solutions have the right tools and technologies to organize, store and deliver.
Transportation/Distribution Overview
Getting products to their destination is the easy part. Getting the right ones there at the right time takes meticulous monitoring and tracking of countless packages, cartons, cases, and pallets constantly moving into and out of trucks, trains, and airplanes. But AIDC and wireless, remote access to massive logistics databases simplify the tasks necessary to complete deliveries on time.
At the loading docks, CipherLab mobile computers with BT and wireless LAN technologies put powerful logistics and transportation applications in the hands of goods handlers, forklift drivers, and managers. Each time a carton is scanned, the mobile computer connects to remote servers and updates corporate databases with accurate information about goods movement. With a range of laser scanning distances possible in a CipherLab mobile computer, goods can be scanned near and far, making it easy to quickly find and load the right products to get them on their way. And, with RFID interrogation built into every CipherLab 8500, 9500 and 8300 Series mobile computers, companies are ready to take advantage of this new technology - whether today or in the future - accelerating the data capture process.
For drivers, wireless WAN (GSM/GPRS) technology in CipherLab mobile computers gives them remote access to databases on the road. They can quickly find the goods located in their trucks and remotely update delivery status as they drop them off. This keeps managers and customers informed up to the minute of the status of deliveries. CipherLab mobile computers with signature capture and BT technology add the ability to print acceptance receipts and delivery records on site for a clear paper trail of the driver's activities and good's transport
Finding CipherLab in Transportation & Logistics
Shipping & Receiving, Cross Docking, Load Management, Driver Automation, Location Status, Pickup & Delivery, Proof of Delivery, Real-time Tracking Status. Wherever goods and people are on the move and need to be located and tracked, CipherLab solutions provide effective tools for efficient work.
Back to Top
Shipping & Receiving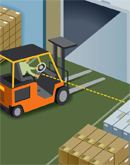 Shipping and receiving docks bustle with activity. Workers roll hand trucks and pallet jacks loaded with cartons. Forklifts swiftly move pallets into and out of trucks and containers. Time is of the essence on the docks, so moving the right goods to the right places efficiently and accurately is a key factor to success. That's why CipherLab mobile computers and scanners can be seen in the hands of shipping and receiving workers.
Paperwork only slows down the movement of goods. CipherLab wireless LAN-enabled mobile computers, with built-in RFID and laser scanning capabilities, work in concert with the company's WLAN and shipping and receiving management software to eliminate paperwork. This integrated solution guides the movement of products to the right places - containers, trucks, vans, or the warehouse - without stopping to fill out forms and check job sheets.
Our mobile computers can be configured with a range of lasers to match scanning needs: whether the goods are very close or across the floor. The right laser optimizes a worker's efficiency. An extra-long distance laser means he can scan a pallet without getting out of the forklift. A normal laser enables a worker with a hand truck to read cartons quickly, verifying he's picking the right ones, before rolling them away. And a handy hand grip keeps the unit comfortable for long shifts. Whatever the need, a CipherLab-based solution will help accelerate work and improve accuracy on the docks.
Back to Top
Cross Docking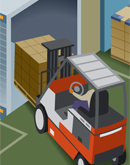 Cross docking eliminates warehousing, but only if the goods make it to the right destination on time. A mistake can mean a costly and timely delay in someone's supply chain. But CipherLab mobile computers and the cross docking company's computer system help keep goods on track and on time.
CipherLab wireless LAN-enabled mobile computers work seamlessly with software and a WLAN to transmit scanned data and receive information, putting critical and timely instructions in the hands of the worker to keep the goods moving in the right direction. A CipherLab mobile computer can help reduce the number of times a package is handled.
Whether a company's operations are based on Windows® or a Windows®-free environment, CipherLab has a handheld, mobile computer with the memory and computing power to handle demanding applications effortlessly. You can also configure our mobile computers with the right laser for reading cartons close up or pallets far away, improving work efficiency. And, whether workers carry the device, or ride with it in a forklift, we have the right accessories to make it a comfortable work companion.
Back to Top
Load Management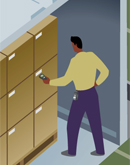 Whether goods are packed in a 53 foot long trailer or 24 foot delivery truck, loading them in the right order - furthest destination first - saves time along the way. And labeling them helps make sure the right cartons get unloaded at the destination. CipherLab offers several technologies to help get the job done quickly and efficiently.
CipherLab mobile computers with wireless LAN capability communicate with a company's computers to send scanned data and receive instructions for loading. And, with Bluetooth in the mobile computer and a belt-clip printer, workers can quickly label packages and pallets on the spot to improve unloading accuracy and efficiency.
Whether carried or used in a forklift, CipherLab handgrips and vehicle mounts make it easy to work with the mobile computer all shift long. And, whether operations are based on Windows® graphical interfaces or terminal services, CipherLab mobile computer solutions can easily integrate into any operation.
Back to Top
Driver Automation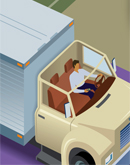 Gone are the days of route sheets and paper manifests. With accurate destination and delivery information in a mobile computer at the driver's fingertips, companies can make more deliveries, more efficiently. CipherLab mobile computers help make accurate delivery information readily available.
Even before leaving the dock, a CipherLab wireless LAN-enabled mobile computer in the driver's hand gets loaded with all the information necessary for the day's deliveries - even the location in the truck. With BT technology in the mobile computer and a GPS device, the computer can offer route guidance along the way. This is especially helpful for temporary replacement drivers. And a host of other tools can be designed into the delivery application. CipherLab mobile computers seamlessly integrate with Windows®-based and Windows®-free infrastructures for any type of specialized delivery solution.
Back to Top
Location Status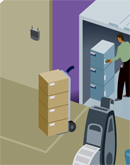 Rapid access to detailed, up-to-date location and status information of packages create more efficient operations and improved customer service. CipherLab mobile computer solutions with wireless WAN (GSM/GPRS) access allow drivers to update locations in the field.
Back to Top
Pickup & Delivery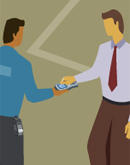 Simplifying pickup and delivery means putting more automated tools in the hands of the driver. Powerful CipherLab mobile computers with wireless WAN (GPRS/GSM) communications or WLAN networks and customized applications on them, accelerate pickup and delivery, eliminate paperwork, and take the guesswork out of the process.
At each delivery stop, scanning the package barcode enables the driver to verify it with the downloaded destination data, ensuring the right package is left behind. To speed pickup and billing, BT technology in both the CipherLab mobile computer and a belt-clip printer enables fast, on-the-spot label and receipt printing. With wireless WAN (GPRS/GSM) wireless WAN built in, all critical information gets transmitted to the company's servers before the next stop, triggering the billing process and updating delivery status. Whether a company's operations are built on Windows®, or are Windows®-free, CipherLab mobile computers easily integrate with any environment for seamless, remote pickup and delivery operations.
Back to Top
Proof of Delivery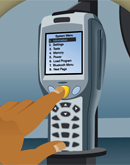 When you need to know who accepted one of your customer's deliveries, right now, nothing is as satisfying as giving your customer the exact name - especially if it was just minutes ago and the driver is still on the road. With CipherLab mobile computers in your infrastructure, instant information is readily available.
With CipherLab mobile computers and signature capture capability right on the touchscreen, drivers can validate delivery to a person. And, with wireless WAN (GPRS/GSM) wireless WAN built in, a signature and name can be instantly transmitted to the company to update delivery records and make them easily accessible to customer service. If printed receipts are required or labels need to be printed, a CipherLab mobile computer with BT and a belt-clip BT printer enables instant printing on the spot. Ensure safe, accurate deliveries with a CipherLab mobile computer, wireless WAN, and signature capture capability.
Back to Top
Real-time Tracking Status
Successful real-time sales benefits from always knowing your inventory on the truck or van. And tracking it over time helps you make the right choices for future product availability. A CipherLab mobile computer helps you track your products and keep up with your customers, both existing and prospective.
CipherLab mobile computers with WLAN and BT capabilities put the right tools in your hands from the start of your day to the end. As you scan items and load the truck, the company's Customer Information Management (CIM) system can deliver instructions over the wireless network of what to load and not load for the day's sales. It can even give you suggestions on what might be appealing to customers based on selling trends and other data to help you be ready for opportunistic buyers during the day. With a CipherLab mobile computer and BT-enabled printer, you can close sales and print receipts instantly. And whether you use Windows® or a terminal-based infrastructure, CipherLab has a solution to meet your needs.
Back to Top