Control Management - Healthcare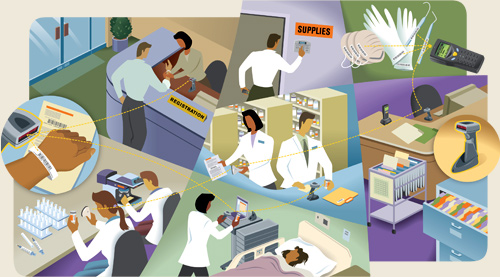 Proper identification of drugs, lab samples, blood transfusions, treatments-and the patients-ensures better healthcare. Healthcare is made safer and easier- for the patient and the staff: from admitting and automating patient records to drug distribution and supply tracking. Wireless LAN and BT help caregivers stay where they're most needed, at the patient's side. Integrated systems allow streamlined patient care management, drug identification, lab test tracking, pharmacy systems, records management and billing. CipherLab is what the doctor ordered.
Healthcare Overview
What better places to benefit from CipherLab than where personal, patient care is the critical focus every hour of every day of the year - the hospital and clinicians' offices. AIDC is erupting in healthcare, improving accuracy and quality of care. With more efficient patient management, drug and supplies dispensing, and records keeping, fewer caregivers can spend more time doing what they do best - caring for their patients' well-being.
On the patient floor, nurses are constantly on the move. This is where BT technology and Wireless LAN thrive best, with CipherLab intelligent wireless scanners enabled with BT technology and Wireless LAN-enabled pocket-size mobile computers. As nurses scan patient armbands, drugs, and supplies, they are cross-referenced for accurate dispensing and record keeping, giving nurses more time with their patients and less time spent on paperwork. Doctors stay informed with immediate updates to patients' electronic records, and hospital management has better visibility of activities throughout the facility.
In the pharmacy, handheld scanners eliminate paperwork and paper-based trails that can suffer from errors and get lost. The right drugs get to the right patient at the right time. And pharmacy managers benefit from deeper insight into what drugs are used and where, adding security to better management.
In admitting, scanning and electronic patient records reduce the mind-boggling paperwork required before a patient can be treated. Handheld scanners make quick work of initiating patient records and eliminate paper redundancies, so common in highly regulated services, like healthcare. The bottom line - more patients can be admitted and treated faster.
Finding CipherLab in Healthcare
Health Clinics, Admitting, Radiology and other scan services, Labs, Physical Therapy, Supplies, Records, Billing, Pharmacy, Patient Floors. Wherever there is a need to identify patients, track services and medicines, manage records and costs, and control access and dispensing, CipherLab solutions are key enablers.
Back to Top
Identifying Patients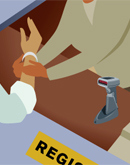 The hospital wristband is the one key constant with patients. It goes with them everywhere. And wherever it appears, CipherLab scanners and mobile computers enable clinical personnel to track the patient's movement, care received, and current condition, simply by scanning the wristband barcode.
As patients move from the main entrance to the patient floors, operating theaters, and anywhere else health services help get them back to their normal lives, CipherLab handheld scanners and terminals are there. Our scanners or mobile computers , linked to the Hospital Information System, reduce paperwork and improve accuracy and efficiency. Doctors and nurses can find where their patients are at any moment, check their records for vital signs measured, therapy sessions completed, and drugs dispensed, and note the latest improvements. Simply by scanning a barcode on the patient's wristband or file.
CipherLab handheld scanners and mobile computers enable fast, accurate patient identification and records management wherever patients are located.
Back to Top
Caring for Patients at Point-of-Care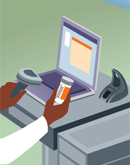 Caregivers pride themselves on the personal, high-touch services they provide their patients. High-tech computers, where patient information is held, are unconcerned. The two must peacefully co-exist, even complement each other. CipherLab BT-enabled scanners and pocket-size mobile computers make that happen.
Through access to the Hospital Information System, scanners and mobile computers enable caregivers to quickly identify patients, cross-check medications, and update activities. CipherLab products reduce the paperwork burden and leave caregivers in admitting, physical therapy, scanning services, and patient floors more time to focus on their patients, while keeping patient records up to date.
For temporary and substitute nursing staff, a medical cart with BT scanner or mobile computers puts accurate patient information in her hands right at the bedside. With instant access to patient records, checking on when and what medications were given last is fast - and accurate. Physician notes and medication orders appear instantly or as needed. The barcode scanner or terminal lets her verify the medicines in the dispensing cup are for her patient, while it confirms with the patient records and doctors orders, and even cross-checks drug databases for contra-indications and warnings.
All at or near the bedside. All instantly and accurately. CipherLab products enable caregivers to continue their high-touch services with high-tech support.
Back to Top
Tracking Lab Tests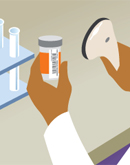 When it comes to lab tests and patients, nothing could be more important than accurately connecting the two. That's why there's so much effort put into records and lab test management. It's a key area in healthcare where barcoding is used extensively. And it's where CipherLab handheld scanners or mobile computers can make such a difference.
Our products help ensure the accuracy of lab test tracking, from the point of specimen collection to updating patient records with results. Scanning eliminates errors from manual data entry and accelerates records management by fast, accurate scanning of barcodes on lab sheets, patient files, wristbands, and specimen containers.
When specimens are collected at the bedside or if the patient isn't ambulatory, wireless-enabled scanners or mobile computers bring the scanning technology to the patient. Barcodes on the patient's wristband and lab sheet allow technicians to quickly and accurately capture both patient identification and lab information. The Hospital Information System connects them in the patient and lab records. In the lab, wired scanners make fast capture of specimen barcodes, eliminating time-consuming manual entry.
Accuracy, efficiency, and speed from automated data capture with CipherLab products mean the right results for the right patient reach clinicians faster, enabling better decisions about care.
Back to Top
Dispensing Medications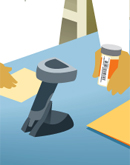 Whether at the pharmacy or at the bedside, medication dispensing must be accurate - medicine, dosage, and patient.
As a prescription is filled in the pharmacy, a barcode label attached to the container links the prescription, patient, doctor, and time and date in the patient and pharmacy records. At pickup, verifying the patient's ID and scanning the container, ensure medicines reach the right person. Scanning the container at the pickup counter can also trigger additional programs in the Hospital Information System to ensure dispensing the drugs are in accordance with government regulation and pharmacy and hospital policies.
Dispensing at the bedside means careful cross checking the medications to the patient. Scanning the barcode on the dispensing cup and the patient's wristband ensures the two belong together, and allows nursing staff to instantly update the patient's record through a medical cart with BT scanner or mobile computer.
CipherLab solutions help ensure greater accuracy and safety when it comes to dispensing meds.
Back to Top
Records Management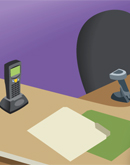 With government regulation and electronic patient record (EPR) initiatives throughout the world's healthcare systems, barcode scanners and mobile computers have never been more important to a patient's well being and organization management. From admitting, throughout the care facilities, to the administration offices, handheld scanners or mobile computers help initiate, update, and maintain every aspect of a patient's record.
Wired scanners or mobile computers initiate the patient record in admitting by scanning the wristband barcode that every patient carries during the course of a stay. Wired and wireless handheld scanners or mobile computers throughout the facility update the patient's record every step of the way. Scanners or mobile computers and the Hospital Information System reduce, possibly eliminate paperwork, and help ensure regulatory requirements and hospital policies are met.
As paper records accumulate, barcode labels make it easier to keep documents organized and in the right patient file, while scanning them reduces efforts to manage records.
Back to Top
Medical Billing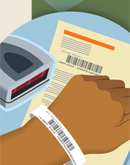 Not capturing in the patient record a service performed or lab test completed, means lost revenue. As services are performed and supplies are used, accurately capturing patient information with a handheld scanner or mobile computer at the point of care, in supplies inventory, or in the lab ensures the Hospital Information System can bill for it and revenue opportunities are not missed.
Back to Top
Medical Supplies Inventory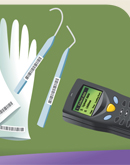 The cost of supplies and assets lost or not accounted for adds up quickly. Yet paper tracking of the thousands of medical supplies and equipment needed in a care facility is daunting. Mobile computers at the point of dispensing aid in accurately accounting for items removed from inventory. Serial numbers or asset tags captured as part of a barcode help ensure re-usable assets can be found quickly. Mobile computers can also ensure needed stocks are fulfilled.
Back to Top
Access Control in Healthcare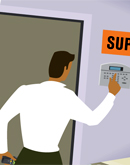 Protecting secure areas, controlled items, and expensive assets is critical to maintaining the level of care provided by a facility. Whether it's biomedical equipment access, pharmacy, equipment stores and supplies inventory, or administration, controlling who has access where is a necessity to successful facility operations. CipherLab access and control terminals readers as the entry point to your security and time and attendance systems allow only authorized personnel access to your secure areas.
Back to Top